Introduction
Human society cannot achieve the goal of real development, if the majority of its people, particularly villagers, live in an unhealthy and unhygienic conditions due to lack of access to safe drinking water, modern health and education facilities and sanitation facilities. Poor facilities of water and sanitation have many other serious repercussions. There is a direct nexus in between water, sanitation, health and human wellbeing. The consumption of contaminated drinking water, improper disposal of human excreta, lack of personal and food hygiene and improper disposal of solid & liquid waste are the root causes for many diseases in India. The inadequate civil amenities in rural areas results in the mass migration of rural population to urban areas which inter alia puts an unbearable burden over the natural resources and civil amenities of those urban areas.
Considering all these aspects of human development and rapid deterioration of natural resources Eco Needs Foundation has initiated the concept of "Smart Village". Under this project the Foundation is adopting villages and putting efforts for sustainable development by providing basic amenities like sanitation, safe drinking water, internal road, tree plantation, water conservation. The Foundation is also working for inculcating moral values in the society and for improving the standard of living of the villagers. In the concept of "Smart Village" the development of the village shall be based on the five paths Retrofitting, Redevelopment, Green fields, e-Pan, Livelihood.
Under the concept of smart Village, the Foundation has adopted Village Dhanora, Teh. Bari, District Dholpur, one of the remote small village of Rajasthan to develop it as India's First Smart Village. The village is situated 30 km away from Dholpur district head quarter and 248 Km from Jaipur. The population of the village is nearly about 2000 having no sanitation facility, potable water facility. Which are adversely causing the health of the villagers. The internal roads are also not there and it causes great hardship to the people especially in rainy season. Owing to unawareness and non-availability of sanitation facility and toilets the people of the village use to go open for defecation. There are other problems also which villagers were facing such as Fluoride concentration in drinking water, No water conservation System, Encroachment on the roads, Electrical power fluctuation No outcome base education, Unemployment and poverty.
Concept Of Smart Village:
"Smart village will provide basic infrastructure required for overall development of every humanbeing to live a quality life with dignity, equality, good Health & Education, Security and Livelihood. It will also provide a clean and sustainable environment with the application of 'Smart'Solutions. Smart village be developed by following five fold path of Redevelopment, Retrofitting, Green fields, e-Pan, & Livelihood. -. By Prof. Priyanand Agale (President of Eco Needs Foundation)
Social Acitivities :
1) First women Panchayat of Dholpur District :
on the 1st May 2014 First women Panchayat call at Danora village to aware the womens about the health and hygiene.During this program Dr. Satyapal Singh Meena (IRS) focused on importance of toilet and role of women for village development .
In Photo Dr Satyapal Singh Meena addressing to womens , left side chair Prof Priyanand Agale and womens of village

2) Social gathering during saptaha at Dhanora :
Huge social gathering of people taken place at Danora during saptaha at this moment Dr satyapal Singh Meena appeal to people of Dhanora for shramdan popele and actively participated below photo shows youth engaged in road widening activity . second photo shows womens involvement for the programme.
3) Social Awareness programme during Diwali :
On the occassion of Diwali festival social awareness programme was arranged at Danora Dr.Sataypal Singh Meena, S.P.Block officer of Bari where present and guided to villagers.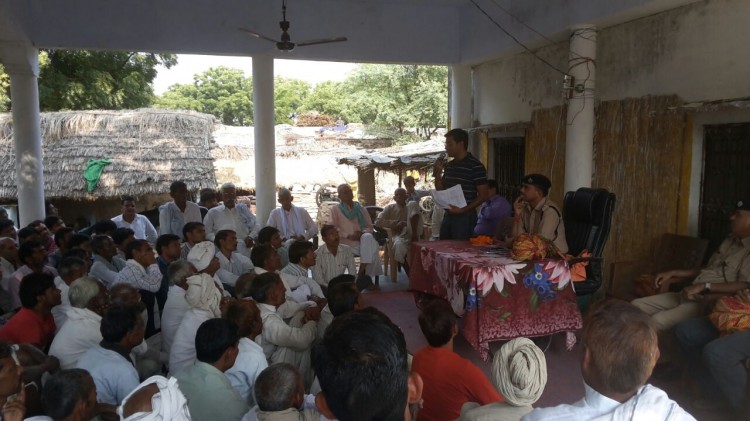 4 ) World Environment Day Programme 2016 :
World Environment day celebrated at Dhanora village in the presence of Dr. Pradeep Gawande(IAS),Mr Rajesh singh (IPS,SP Dhaulpur),Mr Kishan Sahay (IPS),Dr. Sataypal Singh Meena (IRS),Mr.Budhram Meena (CEO,Dhauipur),Mr K C Meena(CTO Dhaulpur ) Mr Malinga Singh (MlA Bari) Mrs Rani Kohli (MLA Basari ) Prof Priyanand Agale (Pioneer of Eco Revolution movment ) villagers .Villagers shows committment for environmental conservation.
5 ) Shramdan :
Shramdan was conducted for making of smart village Dhanora during this programme villagers actively participated and stone pitching of 50 m length and 5 m width was done the valve of this work in labour cost Rs 24600.
6 ) Dr Satyapalsingh Meena motivating the students of Dhanora school about the education.
REDEVELOPMENT ACTIVITIES :-
Redevelopment is one of the important path of Smart village development under this various activites is going on photo shows the development activites .
1) Toilet Construction to make village Swacha :
Dr Sataypal Singh Meena motivated to villagers for the construction of toilet after that joint efforts was taken by to villagers and Foundation for submitting the proposal of each houshold under Swacha Bharat Abhiyan of Government. After that government administration sanctioned 822 toilets under Swacha Bharat Abiyan Yojana Dr. Satayapl Singh take a review about the progress of work and motivated the villagers to construct good quality toilets and use it properly for maintaining healthy condtion at village .It is great success of foundation that all people in village constructed toilet .
2) Laying of Sewarage Line :
Dhanora was one of the many villages in India, without a sewage system. Eco Needs Foundation, under the redevlopement activity under it foundation started laying of sewerage line with RCC cement and UPVC pipes along with sewarage treatment unit..
| | |
| --- | --- |
| | |
| | |
| | |
| | |
| | |
| | |
3) Road construction :
Dhanora roads now constructed with advanced technology by cement concrete
RETRO -FITTING ACTIVITIES :
Retro Fitting basically means modifying the old to improve the present living situation. Eco Needs Foundation undertook the task of retro fitiing the road in Dhanora Village which has been the only main road in the village. The path was a mudway of 5ft width for last 500 yrs and after the retro fitiing used to widen the road it is now a 12ft broad and 4.5 mt in length.
| | |
| --- | --- |
| | |
| Before | After |
| | |
| --- | --- |
| | |
| Before | After |
Converting Village into Art Gallery :
e PAN ACTIVITIES :
To make village smart foundation use advanced technology and equiment like Total station machine .Foundation created the digital maps of village it has used for water supply line,sewer line, construction of roads and so many other purposes .
Green Field Activities :
Green filed is very important element of smart village in this effective use of natural resources were made with due care of nature by following eco friendly practices for sustainable development of village Following activities are carried under green filed development.
1) Efforts for Water Conservation :The objective of "Sustainable Development" can be achieved through sensible exploitation of natural resources. Water is the most precious natural resources. Scarcity of water is resulting into conflicts in the society.Eco Needs Foundation has created water conservation structures at Dhanora. Overall ground water recharge through these structures including Nalla water conservation, percolation tank, farm pond, treated waste water recharge is 97.49 Million liters per year.Foundation consrtucted artifical channel of length 2.5 km without land acquisition process this mega water conservation channel is possible by mutual undersatnding of villagers. Also government parallel work for consrtuction of percolation tank and farm pond.
| | |
| --- | --- |
| | |
| | |
| | |
| | |
| | |
Tree Plantation Activities :
on the occassion of world Environmental day plantation was done at Dhanora village .